"Elevating the daily ritual of Well-Being"
心身ともに良い状態であるための日々のリチュアルの探究
Pearl+ offers self-care products made with utmost care to use natural ingredients whilst searching
for ways to shape a ritual in daily life and bring "Well-Being" to mind and body.
Over the past few years, we have entered a new era where we have taken a deep look
at our daily lives and reaffirmed the top priorities. The concept of "Well-Being" is more relevant than ever,
and maintaining our mind and body in a "good state" is now considered essential.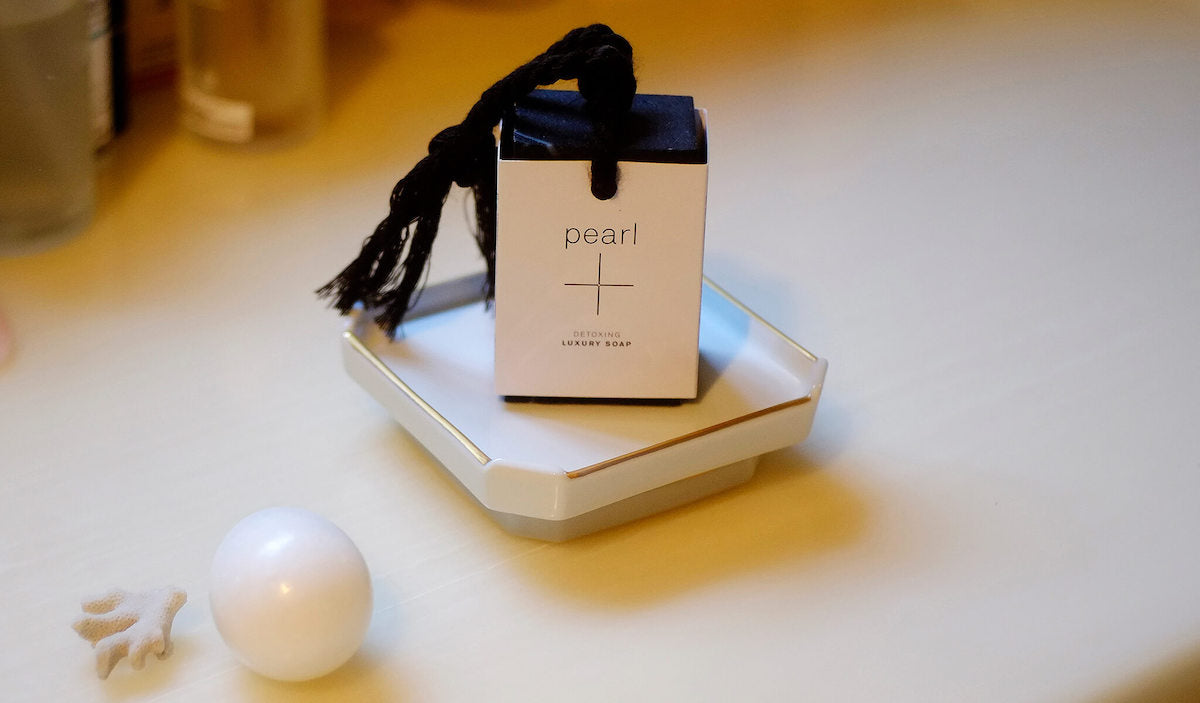 Pearl+, founded in 2008 in Portland, Oregon, by Janet Jay, seeks to continue the ancient traditions of Eastern culture and beauty regimens while optimizing them for modern life.With the cross-cultural, genderless, and ageless fragrance and the iconic designs of black rope and black & white swirls on the bar, our product has been the favorite soap of ACE HOTEL for many years.
When ACE HOTEL KYOTO opened in 2020, Pearl+ moved its production base to Japan to provide amenity soaps to the hotel and bring "Well-Being" to the ever-changing world. The brand has continued to design and develop our products with a new team and partners across Japan and worldwide.
To embody the concept of the brand, which is to respect Eastern traditions and cultures that value harmony with nature, and to propose daily rituals for a "Well-being" of body and mind in this day and age, we developed a new essential oil with the long-established Kyoto-based Yamadamatsu Incense-wood Co., Ltd.
To bring universal modernity to the traditional Japanese fragrance, the fragrance was directed by Soran Nomura, a bar and beverage consultant based in Tokyo who has trained in London.
Project partners
Founder: Janet Jay
Janet Jay was born in New York City. She learned and inherited the benefits of pearls for beautiful skin from her grandmother, who was born in China. Based in Portland, Oregon in the U.S., Janet continues to use her experience developing products for global cosmetics and beauty brands to help celebrate in mind, body, and soul, the daily ceremony of health, beauty, and balance, while leading Golden Hour, a Wellness studio that believes in continuous care.
Website: https://goldenhourpdx.com/
Fragrance development: Kyoto Yamadamatsu Incense-wood Co., Ltd.
Located in Kyoto, Yamadamatss is a long-established incense wood maker that has been in business since the Edo period (1603-1868). All of the ingredients used in their fragrances are derived from medicinal species, and the company has been studying to carry on the "Japanese incense culture," which has been centered on incense woods since the Heian period (794-1192), in the place where the culture originated and developed. While the use of chemical fragrances is, which can be hazardous to the natural environment, continues to increase, the company uses only natural fragrances in our fragrance preparations whenever possible.
Website: https://www.yamadamatsu.co.jp/
Soap development & production: Botanical Factory
With its concept of "100% natural ingredients, alcohol-free, and chemical-free", Botanical Factory locates in an environment overlooking the sea in Kagoshima, the southernmost tip of Japan's main island. The company is engaged in integrated production, from raw material production to finished products.
Website: https://botanical.co.jp/
Fragrance direction:Soran Nomura
After working as a bartender in London for about seven years, he returned to Japan and received numerous awards at Fuglen Tokyo, then launched a bar and drink consulting company ABV+. He has been a brand ambassador for foreign spirits, a bar producer for K5 Hotel in Kabuto-Cho, Nihonbashi, and a producer of various products such as domestically produced spirits and bottled cocktails. In May 2022, he opened his first shop, "NOMURA SHOTEN."
Instagram: https://www.instagram.com/passarinho_in_the_sky/
Soap dish & incense holder creation: Keigo Kamide of Kutani Choemon
As the sixth generation of the Kutaniyaki potter KAMIDE CHOEMON, established in 1879, Keigo has been involved in many projects, presentations, and designs with craftsmen, and as an individual artist, he produces works using porcelain as a material and actively holds solo exhibitions. His works include "Fuefuki," an arrangement of traditional patterns, the "JAIME HAYON x KUTANI CHOEMON" series that invited a Spanish designer Jaime Hayon, and "KUTANI SEAL," which utilizes Kutani Yaki transfer techniques and has received high acclaim for both in Japan and abroad.
Instagram: https://www.instagram.com/kamidekeigo/